The Desire Map Facilitator Program
Workshop, Retreat and Coaching Curriculum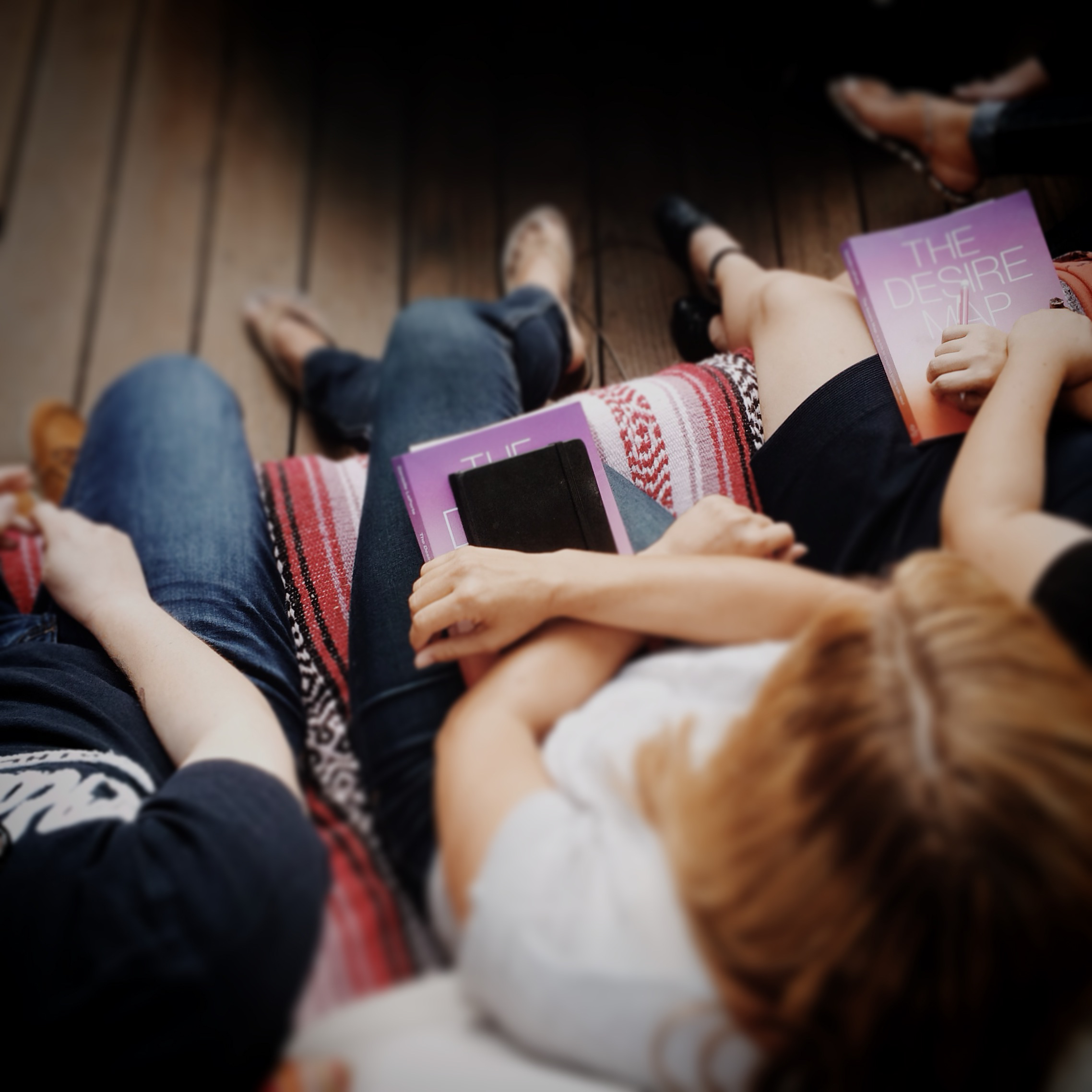 What is The Desire Map Facilitator Program?
It's a revolution, is all—a revolution of the heart.
Desire Mapping is a heart centered approach to creating our lives. We can't control all of our circumstances, but we get to choose how we feel about everything––it's the ultimate self agency. When we combine our free will with our Core Desired Feelings, we become deeply intentional creators. And from that depth, there's greater clarity, love, joy, and service to others… your heart is where it's at. The Desire Map takes you there.
The book has sold over 150,000 copies and has been translated into nine languages. It has helped people all over the world identify their Core Desired Feelings™ and use that clarity to design the lives they want to live.
Jobs, quit. Passions, chosen. Relationships, transformed. Clarity, achieved! Desires, claimed.

Life coaches, wellness coaches, yoga instructors, and others started saying: "This work was so transformative for me—how can I teach it to others?" So, we let that enthusiasm lead and turned The Desire Map book into a curriculum for classes, workshops, retreats, coaching, and more.
Now Desire Map workshops and events are held all over the globe—at retreats, yoga studios, non-profits, virtual coaching programs, teen centers, and classrooms of all kinds. No matter your experience or vocation, you can bring The Desire Map to others and transform lives.
The Desire Map Facilitator Program helps coaches, counselors, teachers, and leaders create a sustainable livelihood by serving others with this joy-generating work.
How Does The Desire Map Facilitator Program Work?
In a nutshell:
You join the program, and we give you all the curriculum and support you need to start facilitating this work right away. Workshops, retreats, or coaching sessions—choose them all or take your pick. You get to craft your own gorgeous events, and delight your attendees. You make money and keep it all.
Here's how the process goes:
First, plan a workshop or event (with lots of support!)
As a Desire Map Facilitator, you will receive The Desire Map core curriculum, broken down into detailed outlines for workshops, retreats, and 1:1 coaching. You take that curriculum and facilitate it out-of-the-box for live or virtual events—or use it as a starting point and customize it to your own vocational specialty. (Coaches and yoga instructors: we've made it even easier with specific outlines made just for you.)
Then, we help you promote your offerings.
Once you've planned your event or offering, we help you get the word out! As a Facilitator, you get to list all your events in our Event Directory, which lives on TheDesireMap.com. Our directory receives thousands of visits daily from people eager to connect with a Licensed Facilitator.
And finally: make money while making an impact.
Last (but definitely not least), you begin selling out workshops, retreats, and coaching sessions. And the money you make from your offerings is 100% yours to keep.







Our goal is to provide you with gorgeous, intuitive content that's easy to use and that naturally boosts your earning potential. We love elegance and abundance, and want you to have a ton of both as you pursue this good work.
You'll also receive the core curriculum for The Fire Starter Sessions, which is a perfect complement for clients who want clarity for the next steps in their career or entrepreneurship. We include coaching + workshop curriculum for virtual and in-person work. The Desire Map and The Fire Starter Sessions work brilliantly together. Core Desired Feelings + Career clarity = Unstoppable.
Entrepreneurs, Yoga Teachers, Life Coaches, Business Coaches, Health Coaches, Counselors, Teachers, Therapists, Essential Oil Educators, Healers… and more.
We created the The Desire Map Facilitator Program with all lightworkers and soulful entrepreneurs in mind. If you are working to serve others and improve lives, Desire Mapping can enhance your work, expand your reach, and deepen the transformation with everyone you work with.
If you are committed to doing meaningful work that's anchored in service and deep joy, and you know that you can earn a good living helping others connect to their true power… this program is for you.
This is a business investment with Soul. No slimy sales pitches, no heavy networking. The whole point of The Desire Map is to create a life and livelihood that resonates fully with who you are. There are many ways to make your business work—so we keep the focus keenly on heart-centered entrepreneurship.
HEAR FROM ONE OF OUR MASTER FACILITATORS
Danielle March is a yoga teacher, coach, and Desire Map Facilitator. She uses The Desire Map curriculum with her coaching clients, in her group programs, and in her yoga studio to transform people's lives. If you are working to serve others and improve lives, Desire Mapping can enhance your work, expand your reach, and deepen the transformation with everyone you work with — on and off the mat. This program is for all lightworkers and soulful entrepreneurs...and since Yoga and The Desire Map bring the body, soul, and mind together, this felt like the most natural partnership.
What's included in the program?
When you join the program and become an official Desire Map Facilitator, you are given everything you need to start facilitating this work right away: curriculum, tools, resources, and so much more. Here's what you get when you become a Desire Map Facilitator:
The Desire Map Coaching + Workshop Curriculum
The core curriculum is broken down into two levels:
Level 1
Your Core Desired Feelings, is about helping your clients discover their Core Desired Feelings. This is the deep work that helps them reconnect (or sometimes connect for the very first time) to their hearts, and begin to welcome in the life they've been longing for. Level 1 offers that profound glimpse into what can be possible once they reset their compass, and start listening to their heart intelligence.
Level 2
Goals with Soul, is all about the practical application of those Core Desired Feelings. You'll help your clients design more meaningful lives, by helping them make tangible shifts to their day-to-day choices. Here, participants can see how their goals are not end destinations in and of themselves, but are sacred choices designed to be in service of their soul work.
To help you teach this curriculum, you'll receive the ultimate Facilitator Guidebook, packed full of ideas, inspiration, and practical resources. It has everything you need to hit the ground running. As soon as you sign up and become a Facilitator, we send you a digital version of the guidebook so you can start planning right away.
The Free & Clear Workshop Kit
The Free & Clear Workshop is the prequel to Desire Mapping. It's an incredibly actionable and satisfying curriculum that introduces new folks to The Desire Map and leaves them wanting more (in a great way!). This workshop is for all the sweet humans feeling foggy about what they "really" want, as well as the super-achievers who need to re-sync their ambitions. Clarity first, then make plans.
The Fire Starter Sessions Coaching + Workshop Curriculum
You'll also receive the core curriculum for The Fire Starter Sessions. This customizable curriculum helps clients examine—and usually renovate—their definition of success. Where Soul meets business, and where consciousness meets cash.
This program makes it super easy to design workshops, webinars, and one-on-one sessions for clients who want clarity about their work in the world and to stoke their entrepreneurial fire.
It's up to you how you'd like to use this program curriculum with your Desire Map offerings. Blend it with your own work. Dice it up to sync with your clients' growth arc. You can make this content the center of your offering or just one part of your magic tool kit.
This program comes with outlines for virtual, in-person, and group coaching, worksheets, a promotional toolkit, The Fire Starter Sessions Audio Book + eBook, and so much more!
See the breakdown of everything included in The Desire Map Licensing Program Guidebook, The Free & Clear Workshop Kit, and the Fire Starter Sessions Program. Details here.
Annual Virtual Desire Map Retreat with Danielle LaPorte
All Desire Map Facilitators will get the opportunity to attend a virtual Desire Map workshop with the creator, Danielle LaPorte. Danielle has never taught a Desire Map workshop publicly… until now! This two-day event will take place virtually for all Desire Map Facilitators to attend. It's also an opportunity for you to be present in a workshop to see what it will be like from your attendees perspectives.
The most effective way to teach this work is to live this work. This beautiful retreat will be a way for you to connect with your fellow Facilitators, connect with Danielle, and integrate your own Core Desired Feelings into your life and business.
The next Virtual Retreat will take place November 1-2, 2019.
Promote Your Business on Our Online Directories
As a Facilitator, you will be listed in our TWO online directories, with a reach of hundreds of thousands of people.
The Facilitator Directory
Your future clients will be able to search for you by name, location, and/or keywords based on your specialties (e.g., yoga, meditation, business, aromatherapy, etc.)
Your Facilitator Profile Page
Your individual profile page on DanielleLaPorte.com is your very own mini-website—another way we make it easy for you to get your unique work out into the world. It includes your bio, info on your upcoming workshops, and links to your main website and social media profiles.
And there's ample space for you to share your personal answers to common Desire Map questions. It's a simple way for potential workshop attendees to get to know you better before they sign up, and for you to start building connections right away.
Facilitator Knowledge Base
The Knowledge Base is your Facilitator home base. Anything you need in order to plan, host, and promote your workshops or offerings can all be found from there, including:
A digital version of your Facilitator Guidebook

Legal contract templates and waivers for your events.

Masterclass and coaching call recordings

Ready-to-use marketing + promotional assets (including customizable promotional graphics and promotional copy)

Tips, updates, FAQs, and more!
The Private Facebook Community
This private Facebook group is available exclusively to Danielle LaPorte Facilitators. In this group, you'll connect directly with your fellow Facilitators, get feedback on your event ideas, ask for input, and share the challenges you're facing. Here you will receive 100% loving encouragement, along with practical ideas to help you grow your practice, improve your skills, and joyfully reach the people you're meant to reach. This group is your space for collaboration + celebration.
Super Affiliate Partner Status
Desire Map Facilitators are automatically enrolled as Super Affiliate Partners. This means you'll receive a significantly higher affiliate commission—$500 for every Desire Map License you sell through your affiliate link. Plus, you'll earn 30% commission on nearly every other item purchased through your link in the DanielleLaPorte.com shop.
Wholesale Discount
Desire Map Facilitators can purchase eligible physical products at a 40% discount (*minimum quantities apply), including Desire Planners (which we sell out of every year!). You can resell the products (at the regular retail price, so you're making a nice profit) at your workshops or via your own website.
The Desire Map Printable Planners For Your Workshops
The Desire Map Planner is Desire Mapping. It's unlike any other planner on the market. We give all our Facilitators the printable versions of the Daily and Weekly Planners to give away as gifts/incentives for your workshop attendees. They can be used as a companion perk for your Desire Map Intro Workshops, or as a bonus gift at the end of your full events + offerings. They are yours to be generous with!
The Desire Map Planner Intro Workshop Curriculum
Host your own Planner-focused workshops! This workshop is perfect for clients who are new to Desire Mapping, or those who want an experienced Facilitator to help them set up their Planner for the year. This curriculum will help you teach people how to use their Desire Map Planners, and can be used as an introductory workshop, or incorporated into your full events.
The Desire Map Digital Workbook and Audio Book
Every new Desire Map Facilitator gets access to the digital workbook and audio book when they sign up. You're welcome to give these away as bonuses to your clients/participants, or use them yourself as you get deep into Desire Mapping.
Bonus!
The Soul Limber Yoga Class
The Soul Limber Yoga Class is a 60-minute video yoga practice the weaves the thoughtful inquiry of Desire Mapping with yin and yang yoga. Led by Yoga Teacher and Facilitator, Danielle March, this feel-good flow is designed to limber your heart and body for the deep work of Desire Mapping. This practice works for all bodies—all hearts. Use this video for your own personal practice or play it during a workshop or event. Along with the videos, we also give you a class outline with teaching tips so you can guide your students through the same practice.
Bonus!
Experience a Desire Map Digital Workshop
Before you lead your own workshop, wouldn't it be helpful to watch a master Facilitator lead a group through the process? We thought so, too. That's why we're giving you the MP3s to a virtual workshop led by Master Coach, Lianne Raymond. You still get to do it your own way—but this will definitely help you anchor into the content and gain valuable group facilitation wisdom from a pro.
BONUS!
Facilitation 101 Video Course
Facilitating group work can be as intense as it is beautiful. There's a lot at play: several people in one room, with all their wisdom and fears and every story they've carried with them. It takes practice to learn how to guide conversations and provide deep listening. In this facilitation deep dive, Coach Kate Swoboda will equip you with the fundamentals you need to be a solid Desire Map Facilitator. From the psychology of group dynamics to handling Chatty Cathys, Kate's got you covered. This is rich teaching.
Become a Desire Map Facilitator
Join the Revolution
What else is there to say? This has to be a heart-calling for you. I'm wildly enthusiastic about fueling women's entrepreneurial fires, and the business opportunity here is a beautiful one.
But… and… this is Soul-centric. I really need people to do this work for the right reasons.
So if you're feeling the inspiration, if you're ready to weave some meaningful inquiry into people's lives, AND, if you've got the mojo to make this a sweet business, then… then YES. Please join us.
This was a surprise little revolution that happened. It went global, started to bring teens and couples and all kinds of wonderful women with it. So when you jump in to become a Desire Map Facilitator, that makes you a REVOLUTIONARY. Of Light.
All Love, and respect,
JOIN THE PROGRAM
The Desire Map Facilitator Program
YOUR INVESTMENT
$2000 USD Investment
*Installments available
Become a Licensed Desire Map Facilitator for one full year with access to:
The Desire Map Workshop + Coaching curriculum in a gorgeous linen binder.

Annual Virtual Retreat with Danielle LaPorte

The Desire Map Directory to post your events + profile for thousands of daily visitors

An enriched Facilitator Knowledge Base

A private Facilitator Facebook Community

Super Affiliate Partner status + wholesale discount

Free + Clear Workshop Kit

Printable Desire Map Planners + Planner Workshop Curriculum

The Fire Starter Sessions Workshop + Coaching curriculum

The Desire Map Workbook + Audio Book

Soul Limber Yoga Class
THE FINE PRINT
* For those with financial need installments are available ($500 x 4 payments).
When you purchase the Facilitator Program, you'll have access to the program for one full year, at which point we'll get in touch about your annual renewal—your choice between one annual payment of $1000 USD, or 12 monthly payments of $100 USD.

By purchasing the Facilitator Program, you

agree to the terms of service

.
The Desire Map Facilitator Community
Check out these photos from Desire Map Facilitators and their workshops!